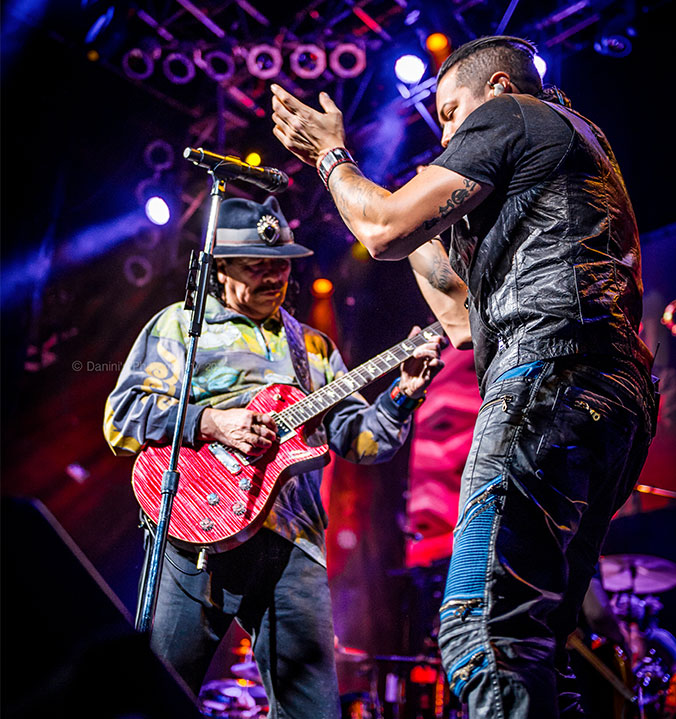 A budding recording artist, Vargas's life took on a new meaning when he auditioned to perform with Santana and his band after the release of Santana's album "Supernatural" in 1999.
"CARLOS IS FOR US AND THE LATINO CULTURE, AN ICON, AND TO BE ABLE TO WORK WITH HIM ON A PERSONAL LEVEL FOR ME HAS BEEN A DREAM."
"I think we just had a connection. I think it was the love for the music. It's the same type of love that I have for it still. Carlos excites me when he plays the guitar. He gets me going, and I think it's an inspiration on both ends from guitars and vocals," said Vargas.
What was supposed to be only a two week tour of the East Coast with the band turned out to be more than Vargas expected. After just three shows Santana and the band's conga player Raul Rekow invited Vargas to Santana's dressing room for a meeting.
"Carlos kind of just said, 'Hey you're in. You're in the band.' It was surreal to me," said Vargas who has been performing with Santana since 2000.
Along with what happens on stage Santana has become a mentor for Vargas, teaching him about music and life.

"I think he does this not just for myself, but for a lot of people. I think this is why people follow him and what he says because it's not just what he says on stage, he lives it off stage," said Vargas.
Singing with such an iconic performer was intimidating for Vargas when he first joined the group, but his love for the music and performing is what helped him feel comfortable on stage.

He's especially enjoying the band's residency at the Hard Rock. The venue and the sound system enable the group to put on shows that audiences won't experience in other locations. One of the unique things in this show is that some of the songs including "Black Magic Woman" and "Oye Como Va" are performed with corresponding video.
Santana and his band are on the verge of finishing up their residency at the Hard Rock with their last performance on May 1. Vargas commented that he thinks the hotel's decision to select Santana as their first resident headliner was a result of both Santana's legendary status and his positive message.