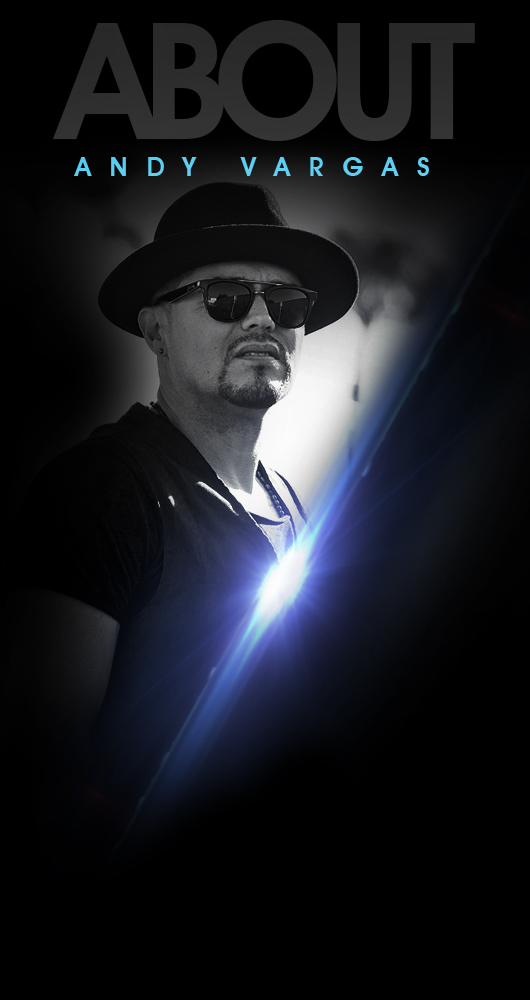 If Santana is the king of Latino Rock and soul, then Andy Vargas is the prince heir to Latino soul music in the US. Now cemented in music history for over two decades as the lead singer of Santana, Andy Vargas represents the future of music creativity and industry intellect for the next generation.
Having performed and recorded with talents as Juanes, Beyonce, Enrique Iglesias and many more, Andy has created his own special genre of music. This seismic sound and new thought of artist's rights and access gained the attention of acclaimed comedian George Lopez. Along with 800 Pound Gorilla Records and Warner Music, Andy and George are in the beta stage of their new record Label, Malaspalabras Records. This pioneering attitude of Andy's is evident in his musical tastes of his roster of artists. Look for exciting announcements and events in the coming calendar.
Andy's musical pedigree was handed down from his father instilling a greater purpose to pass on what he has learned. In 2015, Andy launched The Andy Vargas Foundation (AVF), a nonprofit organization with a mission to inspire, educate and mentor underserved youth who strive for a career in the music industry. The AVF achieves its mission by providing youth with free community programs that include a Music Conservatory; Music Composition & Production Academy; and College Scholarships that are critical in paving the way for underserved youth to achieve their artistic dreams
Andy Vargas is one of the most impressive talents and human beings I've had the pleasure to work with. Not only is he one of the GREAT VOICES of our time and an incredible performer, he is also an accomplished DJ, producer, songwriter, and all-around visionary.
As the lead singer with Santana I've seen Andy electrify tens of thousands of people with stunning, joyful performances, sustaining a level of intensity and vocal brilliance with his unmistakable sound that soars over the band and straight into people's hearts.
In the studio his craft, focus and instincts make him a joy to work with. He brings the same level of performance intensity and emotional connection to the vocal booth as he does to the stage. Beyond all that, he's honest, ethical, has a huge heart and an endlessly positive spirit.
Andy's multiple solo projects (DJ sets, live performance, programming, writing, production and high profile live events) are an indication of his "always-on" creative vision.
"If you're lucky enough to work with Andy you will experience firsthand just how much he brings to any project."